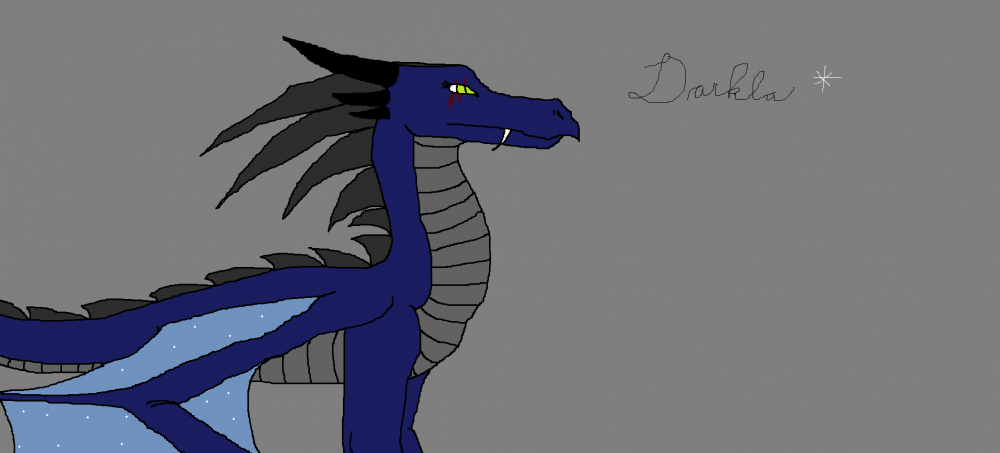 OC ADOPTION #1! DARKLA (CLOSED)
June 19, 2017
My first OC adoption!!! Here's how you can win her: Comment if you want her. Lol that's all! I will use a random number picker to draw a random comment number, then count to see which person wins! Here's Darkla's bio:
Name: Darkla
Gender: Female
Age: 20
Description: Midnight blue with lighter blue wing membranes; Giant spikes on neck and smaller ones down her spine; Gray underbelly; Scar on her near her eye; Has two unusually large fangs
Personality: Very mysterious; Doesn't like talking to anybody; Usually out of sight
Likes: Being alone; Thinking about her enemies dying; Flying
Dislikes: Friends; Walking; Dragons staring at her; Dragons making fun of her scar
Quote: "I am the only dragon around here that knows anything. The rest of you are all stupid!" (Lol she lost her temper with some random dragons in this quote...... NOT ANY OF OUR OCs LOL)
Crush: Any male OC dragon with the same type of personality as her
I can't wait to see who wins her! More adoptions to come in the future :) Adoption ends on the 22nd (not gonna keep it up for too long). Get your entries in!
Added by
Fungirl99000



Added to
OC related stuff